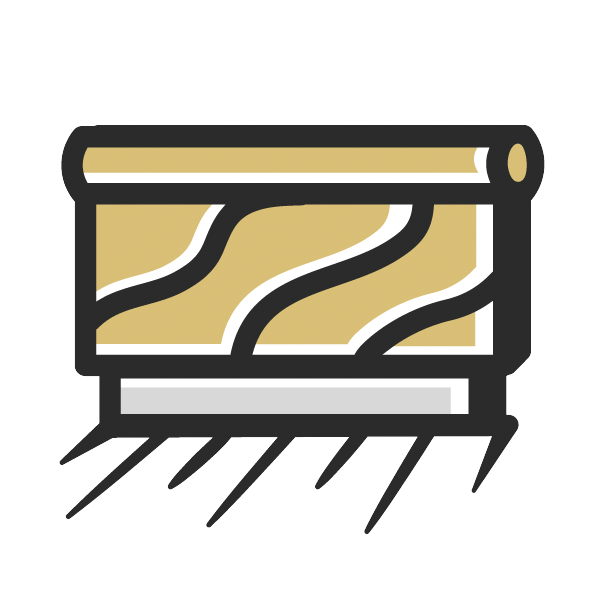 Screen Printing
Screen printing is the art of creating a stencil from a mesh screen and transferring ink through it onto an object. It's the most common, efficient, and stable way to decorate a T-shirt. We can print a lot more than T-shirts though. Hoodies, Tank Tops, Tote Bags, Lanyards, Frisbees, Concert Posters… What do you need? We like a challenge!
Ink Options
Each of our inks have unique qualities and produce a different product. Selecting the right ink for you print really depends on what you're going for.
Water based ink uses water as its solvent. Using it will achieve a very soft print because the fabric will actually absorb it into the fibers. It's great for achieving a vintage look and feel. Be aware that it does not work well on dark garments, and it will fade a bit when washed.
Plastisol ink is the most common used in screen printing. It's actually made with plastic, so it's not just a clever name. When applied to a garment you can feel it sitting on top of the fabric. We try our best to keep the print as soft as possible, unlike those bullet-proof prints you remember from the 90s. Using plastisol ink is the best way to achieve a Pantone color match and bright, opaque colors.
Discharge ink is traditional water based ink with a bleaching additive that actually dyes the fibers of a garment to the color of the ink. The outcome is a very opaque, vibrant print with a matte finish. It makes the very softest print and is our personal favorite style of printing. This technique is only effective on cotton garments, and it can be difficult to perfectly match colors. It also has a very distinct smell, so we highly recommend washing garments printed with this ink before wearing them.
HSA stands for High Solids Acrylic, and it's a new type of water based ink designed to sit on top of the fabric's fibers, much like plastisol ink. This technology allows us to achieve an opaque, vibrant print while also keeping the soft feel that water based ink is known for. Sounds perfect, right? Unfortunately, we are currently limited on the number of colors we can print within a single design due to some technical mumbo jumbo we won't bore you with. But if your design has 1-3 colors and you want a bright, very soft print, this might be a great option for you!
We have all kinds of special inks that make your products stand out. Some speciality inks include Glitter, Shimmer, Glow in the Dark, Clear Gel, and Foil. If you have a "crazy" idea, let us know and we'll do our best to make it happen!