Customer Spotlight: Tumbleweed Texstyles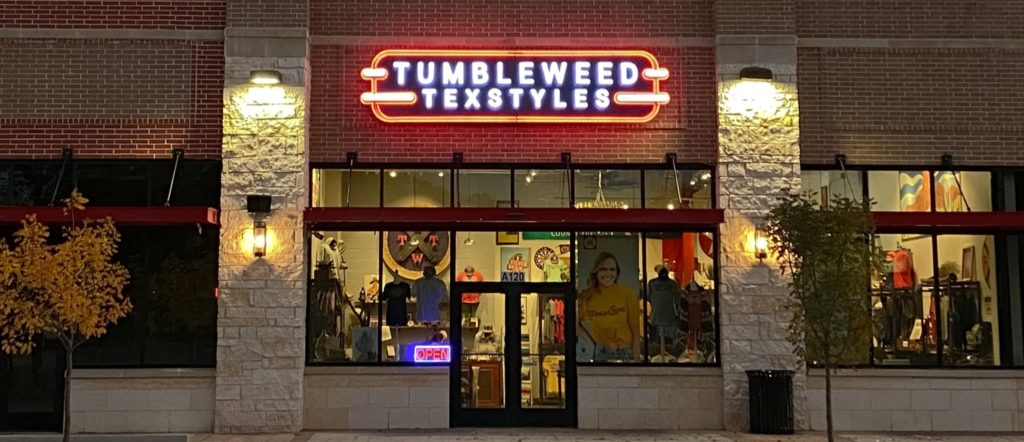 How it all began.
It was probably about 2013. Printed Threads was setting up at a beer and music festival in Fort Worth at Panther Island Pavillion. These are the kind of places that we make friends. Introducing ourselves to other vendors, we found one that mixed up two things that we love. T-Shirts and Texas. 'These shirts are rad! What's the name of your brand?'. Brian and Jeb replied Tumbleweed Texstyles. Fast forward seven-ish years later. We are celebrating a great partnership and supporting each other's brands. Tumbleweed has also opened its first brick and mortar store in the heart of Frisco, TX. Their shirts and Texana goods are in their proper place. So how did it start?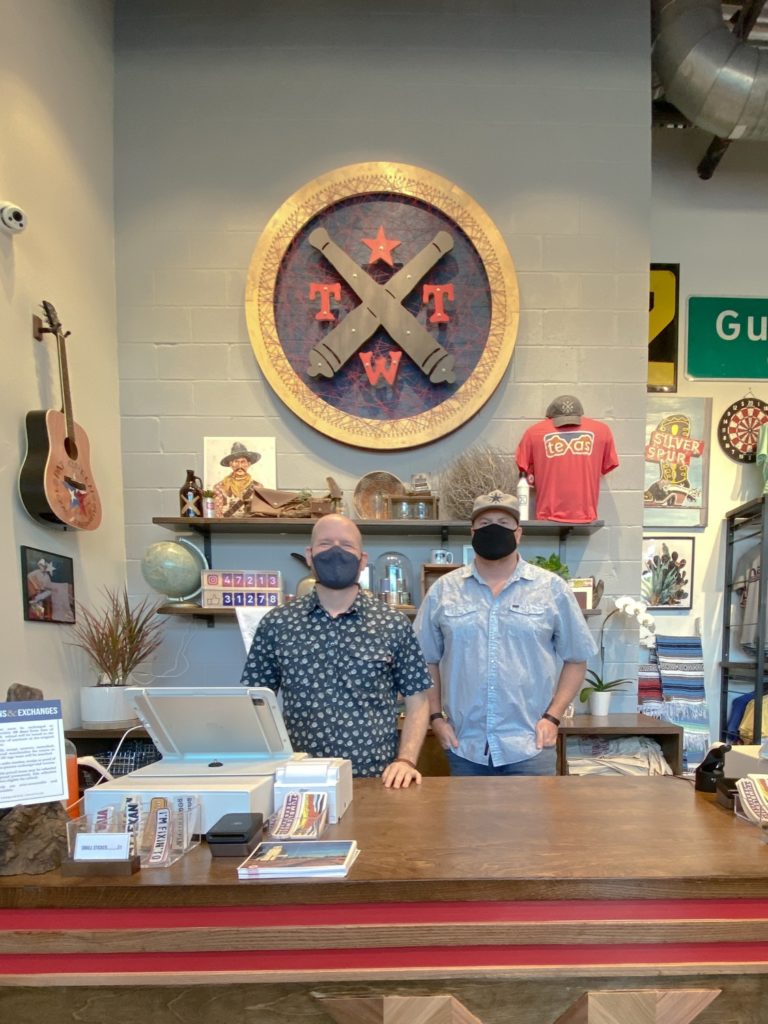 Teachers gonna teach.
Growing up in Texas and both ending up going through Texas Tech, the obvious commonality was there. 
Jeb Matulich, now a high school art teacher, grew up living in almost every corner of the state. Jeb is a self-taught artist, cutting his chops drawing from old Sports Illustrated Magazines and Air Force publications. He achieved national acclaim for drafting in high school. After pursuing a degree in architecture, but eventually changing his major three times, He graduated from Tech in the '90s, teaching, and coaching as his father had. Jeb continues to find inspiration for his artwork and designs from all things Texana. From old rusty neon signs and landscapes to Texas landmarks and maps, you can find it on a doodle.
Brian Wysong grew up in our own Fort Worth and has been selling and promoting whatever he can since the age of three. That drive led him to Texas  Tech and he graduated with a degree in marketing. Directly out of college, Brian landed a job as a Marketing Director for a non-profit, which opened the door to becoming a marketing coordinator and account executive at a Dallas branding and marketing agency. He took that experience with him for a career change, teaching marketing and coaching at a high school in Frisco. This career change led him to meet Jeb, who shared the same passion for Texas, art, music, and design.
The Beginning.
After a chance encounter during an in-service break while Jeb was drawing a 'sweet design,' they both chatted about their different skill sets. Pitching in a little money, they printed their first run of t-shirts and hustled them to friends and family. They began posting up at local festivals displaying their Texana inspired gear. Things started catching on, and they began to sell online. Since 2011, Tumbleweed Texstyles has served over 700 retailers, shipped packages to customers throughout Texas, and all 50 states, and even 12+ countries. The online and wholesale business has gained some love from various influencers on social. It has opened up the opportunity to do custom work with some 'larger entities' as well.
Whatabrand.
Brian tells us, 'Our most recent success would have to be our opportunity to partner with one of the most iconic Texas brands… Whataburger. We received an inquiry from the Whataburger team via social media wanting to set up a conversation. I really thought it was a joke. Once on the call, we were humbled by Whataburger pursuing a partnership with us to help design, print, and fulfill t-shirts.'
Whataburger also partnered with a few other brands tailored to fit a specific product category, including YETI for drinkware, Justin Boots for footwear, and James Avery for jewelry. 
'We are extremely honored that out of all the Texas apparel brands, they wanted to work with Tumbleweed TexStyles as their go-to Texas t-shirt brand.' 
Keeping Texas on the Horizon.
So what motivates the gentlemen at Tumbleweed? 'Every day is a new day in growing and building the brand.' They also use TWT as a vessel to serve and connect. They've been able to give financial donations, publicly speak to students at schools, and create a brand that helps make people happy. Brian also tells us he 'looks forward to building a team that works together to achieve goals and utilize the gifting that God has blessed us with to do cool stuff.' 
Overall, Brian and Jeb have created a trendy artistic Texas brand that appeals to Texans everywhere. Printed Threads can vouch for that. We have a 'Tumbleweed Texstyles bingo card' for all the TWT shirts we spot at live events or group trips.
As all the spotlights go, we can't close without asking Brian what his favorite garment is. 'My favorite garment is probably the Next Level 9602 hoodie. I could wear it all day, every day. I am also a huge fan of the Bella Canvas tri-blends. Super soft.' 
Printed Threads is very grateful for our relationship with Tumbleweed. We are very proud to have a brand take full advantage of our services. From choosing the right garment to full custom finishing, and then onto fulfillment, making sure each package lands in the fans' hands. It's great to have full quality control for TWT. 
Check out this little spotlight video featuring the new shop below and if you find yourself in Frisco, be sure to check out their new, fully finished boutique at 7511 Main St. Ste A120. Be on the lookout for their upcoming Thanksgiving sale online that goes through Cyber Monday, and stock up on all the Texas Christmas goods!